The Gold Year 1997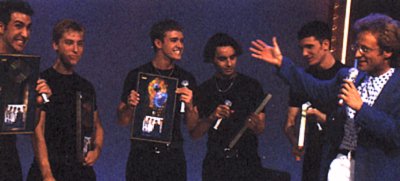 Although 'N SYNC had already exceeded all expectations with the success of their debut single " I Want You Back ", in 1997 they moved up a gear. 1997 really was a Golden Year. It began with the gold discs for " I Want You Back " and " Tearin' Up My Heart " and ended with a gold disc for their debut album.
Their comet-like ascent was honoured with numerous awards, for example the VIVA " Komets " and the " Bambi " in Cologne for " Newcomer of the Year ".
The " I Want You Back " and " For The Girl " tours were hugely successful. Their breathtaking live shows, consisting of acrobatic interludes, fantastic dance routines and their explosive charisma, didn't only convince confirmed 'N SYNC fans but was responsible for an ever increasing growth in the fan base.
Is 'N SYNC's success just the result of a contrived marketing campaign or the result of hard work, a lot of talent and luck ?
Not only did 'N SYNC have a successful 1997, it was also a very busy one. It began with numerous appearances ( on VIVA, MTV, Bravo TV, Wetten, daß , The Dome, Pop Explosion ), IFA performances, their October tour and, finally, the crowning finale on WDR's New Year's Eve Party " Die Nacht 97/98 ". These appearances and performances alone didn't achieve the success, it followed numerous magazine and radio interviews along with the filming of videos and dozens of photo sessions. The constant flying from A to B, through which 'N SYNC proved their professionalism, can also not be overlocked. Despite enormous stress they always managed to summon a smile for the cameras.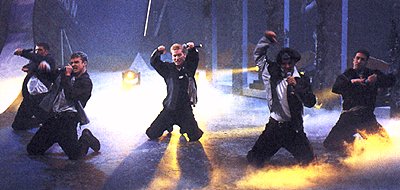 How can this sudden demand for 'N SYNC be explained ?
Obviously, it was clear to anyone who heard 'N SYNC that it was no flash in the pan phenomenon. Rather, it had all the makings of something that was going to go all the way. Everyone who saw Justin, Chris, Joey, Lance and JC live realised that the incredible chemistry between the five bundles of energy would attract more than just a very young audience. Even their first live performances were something special. The sweat in the dance studio with their choreographer " Robert Jacquez " was paying dividends. Building on the artistic training that each member of 'N SYNC had already undergone, Mr Jacquez was able to motivate the boys to even more difficult dance routines ( " Tearin' Up My Heart " ). Anyone who themselves loves to dance will easily realise just how much of an effort it is to not only to perform these difficult routines but also to sing at the same time. The fact that 'N SYNC haven't lost their voices is only thanks to the years of singin g lessons and their hard - earned physical condition.
But what use is musical and dance talent without the suitable songs ? By finding an experienced manager in the shape of " Johnny Wright " access to first class songwriters like " Dennis Pop ", " Toni Cottura " or " Veit Renn " was made easier.
As Dieter Bohlen said in an interview : " A good song can be destroyed by a bad interpretation. Equally a terrible song can be brought to life through charisma. "
In 'N SYNC's case the charisma and vocal harmony make a good song even better.
With their energetically explosive charisma 'N SYNC can, for example, with their sond " Here We Go ", set even the most sluggish of bodies in a party mood. And , in all honesty, no one has covered the rock ballad " Sailing " with so much feeling and beauty as 'N SYNC. The self - written funk song " Giddy Up " also gets under your skin. It could be said that with their debut album 'N SYNC hit the jackpot and impressively proved their vocal and musical range.
'N SYNC's success was built from hard work, a huge amount of talent, an that all important portion of luck. And, of course, not forgetting their enormous personal charisma.